UQCCR virologist, Dr Kym Lowry reflects on her career and the global impact of her work.
Unearthing a passion for science at university has led Dr Kym Lowry to 18 years in the infectious diseases industry.
Even all these years later – despite work taking her around the world – Dr Lowry remains most at home in a laboratory.
"I genuinely still enjoy working at the bench and progressing projects," Dr Lowry says.
"Answering one research question always leads to several more to answer.
"I love working in the lab, teaching students and inspiring interest in research, good methodologies, and generating evidence through experimentation."
Currently, a Postdoctoral Research Fellow at The UQ Centre for Clinical Research (UQCCR) Microbial Diagnostics and Characterisation Group, Dr Lowry is researching the types of respiratory viruses that have circulated during the COVID-19 pandemic.
"I am a virologist with interests in virus evolution and transmission dynamics – basically how a virus evolves and adapts in the community to continue to spread," Dr Lowry says.
"As you can imagine, this is quite topical at present, given the COVID-19 pandemic.
"I'm analysing the types of respiratory viruses that have circulated during the COVID-19 pandemic, despite preventative health measures mostly eliminating other community acquired respiratory viruses, including SAS-CoV-2 and influenza.
"From an evolutionary point of view, this provides great insight into viruses' ability to transmit when there is less competition from other circulating viruses."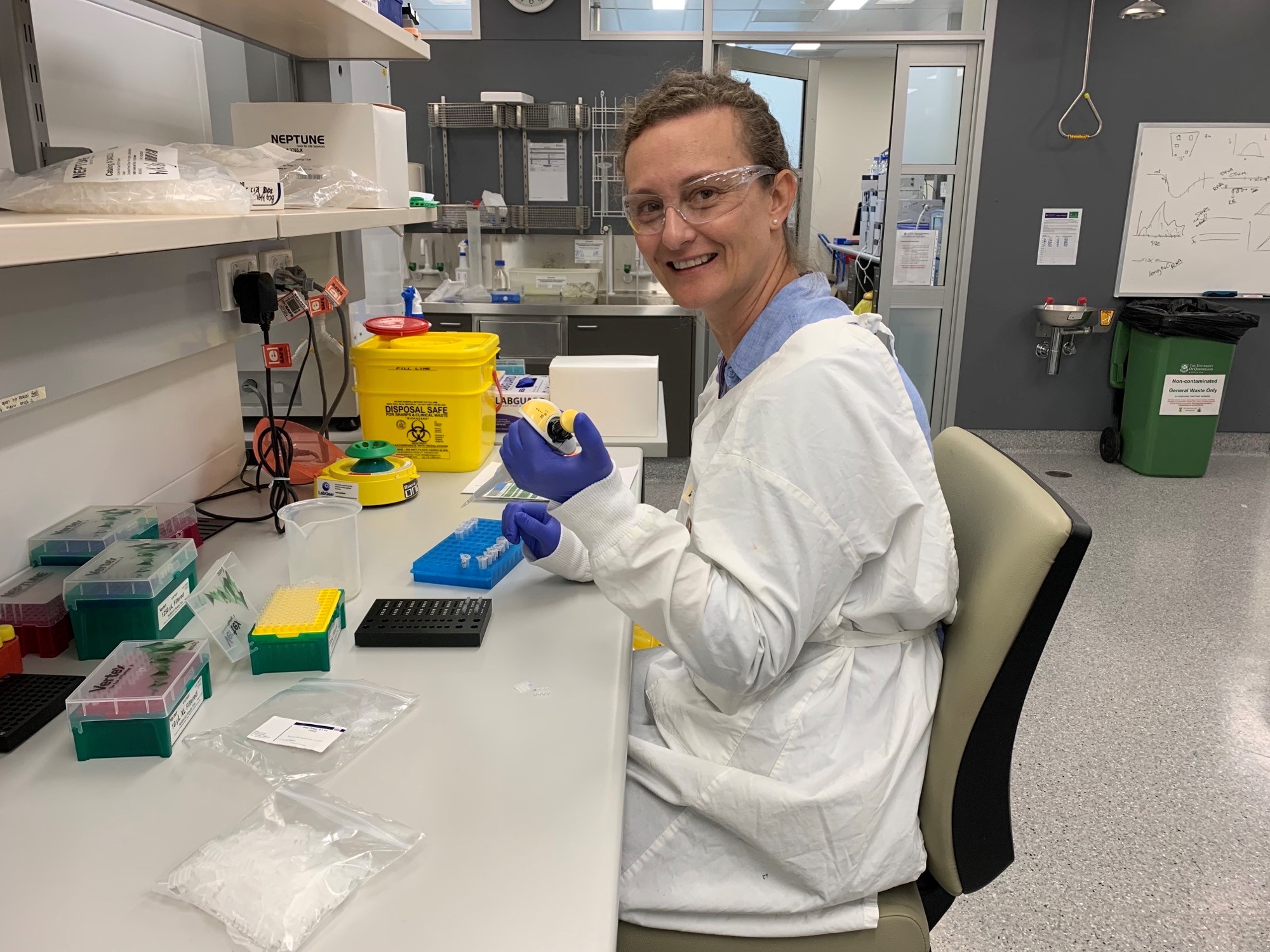 Dr Lowry's interest in virus evolution stems from her time working in a World Health Organization (WHO) Reference laboratory after completing her science degree.
"I worked in a WHO Reference Laboratory for Arboviruses in the South East Asian region. We researched viruses transmitted by mosquitoes, particularly dengue," she says.
"We tracked the spread of such viruses – especially during outbreaks – to help inform health authorities so they could plan preventative measures in the community, and also for longer-term development for vaccines and therapeutics," Dr Lowry says.
"It is important to monitor changes in these viruses over time – such is the case with SARS-CoV-2 right now – to determine whether current vaccines will continue to be effective against contemporary strains that are circulating."
While in Asia, Dr Lowry was seconded part-time to the Australian Defence Force's (ADF) Tropical Disease Research Unit to work on mosquito-borne viruses of threat to ADF and civilian personnel.
"I spent time in Hanoi, where I trained military personnel from the Vietnamese People's Army in laboratory techniques for dengue detection and characterisation. It was part of a project with the Department of Foreign Affairs and Trade," she says.
The role was a slight departure from the more traditional research roles she was accustomed to, but one in which Dr Lowry witnessed her research work having a direct impact outside the lab.
"Seeing your research culminate in a therapeutic treatment that can save or improve human lives is pretty special," Dr Lowry says.
"I would say that my biggest career achievement has been applying my molecular biology and virology skills to pharmaceutical outcomes that are now commercially available to treat patients and prevent infections.
"I worked briefly on a Japanese encephalitis vaccine programme for Australia and this vaccine is now approved in Australia, Malaysia, the Philippines, and Thailand."
Dr Lowry's research at UQCCR extends beyond viruses. Her team, led by Associate Professor David Whiley, is also working on rapid testing for antimicrobial resistance (AMR) markers for a range of bacterial infections, including sexually transmitted infections.
"Our research aims to quickly identify AMR markers in organisms causing infection in Queensland patients, in order to inform clinicians of appropriate treatments in a timely manner," she says.
"Continuous improvement of rapid testing is vital for expedient patient care, as well as monitoring organisms as they evolve."
So what's next for Dr Lowry?
"I've been at UQCCR for over 2 years now and the breadth of projects I've been lucky to work on is incredible. The support and training provided by UQ and CCR's collegial environment is amazing and I love coming to work every day," she says
"I've been lucky to travel the world with my job but for now I'm very happy at CCR. Our ethos is to positively impact patient care, and for me, that's really what it's all about."