To book one of our spaces, or to enquire about holding an event at CCR, please complete the enquiry form.
If you have any queries please contact our reception desk on 07 3346 5555.
Auditorium details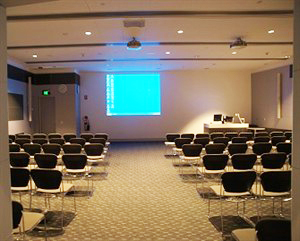 The UQ Centre for Clinical Research auditorium houses up to 120 seats, set up in theatre style. The auditorium has been equipped with the latest in audio visual equipment including: 
a purpose built lectern
a PC (QH network access not available)
audio equipment including a DVD player /CD player/recorder, visualizer and radio
lapel microphones 
This equipment is connected to two data projectors and operated by an AMX colour touch screen panel, located on the lectern. This in turn also controls the main auditorium lights. This easy to use touch screen enables presenters more time to concentrate on their presentations without having to worry about mastering cumbersome electronic equipment.
Breakout space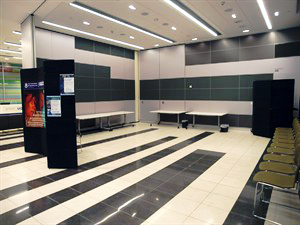 Our breakout space provides a venue for small functions. This space is located outside our auditorium and is suitable for simply catered events, with six tables available for use.