Traffic calming: an approach to altering drug delivery to reverse drug resistance
15 March 2023

12:00pm

–

1:00pm
Speaker: Associate Professor Fiona Simpson
Principal Fellow of the Queensland Head and Neck Cancer Centre
Frazer Institute, The University of Queensland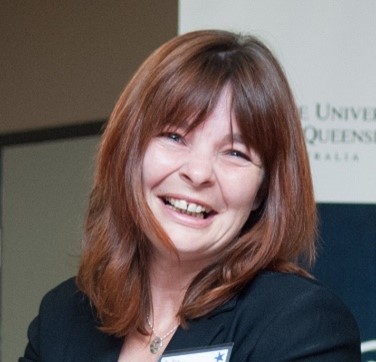 Bio: Fiona completed her PhD on cellular trafficking at the University of Cambridge, UK. She was then a Wellcome Trust Prize Post-doctoral fellow at The Scripps Research Institute, La Jolla, working on trafficking and endocytosis of RTKs. Fiona is currently a Fellow of the Queensland Head and Neck Cancer Centre.      The Simpson lab research program is focused directly on the translation of research findings into new cancer therapies and has generated a novel method for antibody-mediated cancer therapy and associated companion diagnostic methods which are covered by three international patent applications and published in Cell (March 2020) and Cell Press STAR Protocols (Aug 2020). Fiona was the lead scientific investigator on a Phase I proof of concept study of the novel therapy in head and neck cancer (HREC/15/QPAH/48) and the Lead scientific Investigator on Phase IB dose escalation trail (CESTEM-1), now completed.
Overview: The idea of temporary and reversible endocytosis alteration via dynamin inhibition in vivo provides opportunities to not only improve mAb-mediated ADCC, but also delivery of antibody-drug conjugates (ADCs) and radioligand therapy (RLT). Whilst it may seem contradictory to inhibit endocytosis of molecular targets, a mechanism which ADCs/RLTs require for the delivery of drug/radiation payloads to the endosomes, temporary inhibition of endocytosis can potentially increase binding and accumulation of ADC/RLT-target complexes on the cell surface, allowing maximal drug loading before synchronous endosomal delivery of drugs upon reversal. As an adjunct to this work we have also identified molecules involved in the biogenesis of the immune synapse. These immune specific proteins can be expressed in some cancers and reveal a potential mechanism by which cancer cells gain immune-privilege. 
About UQCCR Seminar Series
UQCCR Seminar Series
The UQ Centre of Clinical Research (UQCCR) Seminars are held fortnightly on Wednesdays from 12 pm - 1 pm (except during school holidays) currently on Zoom. The series features topics in multiple research fields, presented by invited international, interstate and local researchers.
Venue
Location: Zoom https://uqz.zoom.us/j/87198801358