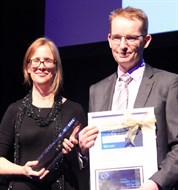 The inaugural Metro North Research Excellence Awards 2016 were held to recognise and reward outstanding achievement in research across all clinical specialties and professions.
UQCCR's Associate Professor James Scott was recognised for his work in improving the mental health of Australian youth in the Promoting Healthy Minds and Bodies category. 
Mental Illness is the leading cause of morbidity in Australian youth.
Rates of youth mental illness remain stubbornly high and the outcomes for young Australians with severe disorders such as schizophrenia are not good.
Professor Scott's research aims to prevent the onset of mental disorders, identify the underlying causes of schizophrenia and conduct clinical trials of low risk interventions for young people with early psychosis.
His clinical trial investigating schizophrenia has potential to make meaningful improvements to the lives of those living with the condition. His work has been nationally and international recognised has the potential to improve the mental health of young people across the world.
To support Associate Professor James Scott's work in youth mental health, kindly donate on www.uqccr.uq.edu.au