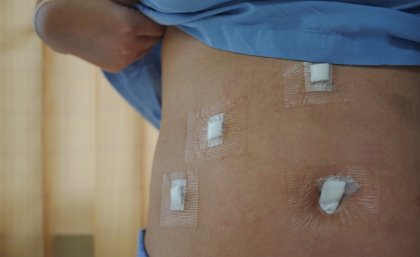 A 10-year study involving University of Queensland researchers suggests laparoscopic or robotic radical hysterectomy for cervical cancer is more likely to result in disease recurrence and reduced survival rates than open abdominal surgery.

Queensland Centre for Gynaecological Cancer (QCGC) head of research Professor Andreas Obermair said the findings have already changed surgical care in gynaecological cancer centres across Australia and internationally.
"Laparoscopic surgery remains a suitable choice for the 29,000 women who need a hysterectomy in Australia every year to treat abnormal bleeding, fibroids, pain and also uterine cancer," Professor Obermair said.

"Laparoscopic surgery is preferred in these cases because it has shorter recovery times and fewer complications.

"But for women with cervical cancer, we found laparoscopic hysterectomies were associated with a three-fold increase in disease progression compared to open hysterectomies performed through an abdominal incision.

"The survival rate for these patients was also significantly worse compared to women who had open hysterectomies."

The trial involved 34 gynaecological cancer centres from 14 countries, and was co-managed by the QCGC and the MD Anderson Cancer Center in Houston, Texas.

MD Anderson's Professor Pedro Ramirez said previous studies comparing the two options had focused on surgical outcomes and patients' overall return to normal activities.

"Our research was the first to compare the two surgical techniques for hysterectomies for cervical cancer treatment and evaluate outcomes, including disease-free, overall survival and recurrence rates."

The results are published in the New England Journal of Medicine.

A study published in 2017 found keyhole surgery should be the preferred standard of care for women needing a hysterectomy for endometrial cancer.
Media: QCGC Research, Lisa Harrold, l.harrold@uq.edu.au, +61 418 151 850. Dr Obermair may be available on the phone between cases on Thursday and Friday.