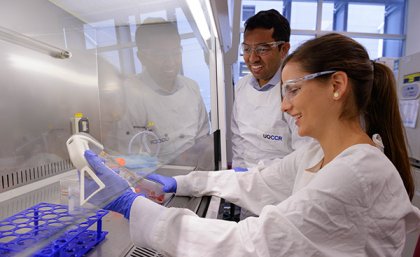 Researchers from The University of Queensland will investigate the potential of existing drugs to be repurposed to fight Parkinson's disease thanks to a new research grant.
The research will be funded by The Michael J. Fox Foundation for Parkinson's Research and Shake It Up Australia Foundation and headed by UQ Centre for Clinical Research Group Leader Dr Richard Gordon.
Dr Gordon said the funding would allow researchers to build on their previous work into halting Parkinson's disease.
"In our previous study, we were trying to 'cool brains on fire' from inflammation whereas this time we're focusing on stopping that fire from starting in the first place," he said.
"That study showed that a key immune system target known as inflammasomes were causing inflammation in the brain leading to the disease progressing. 
"Now we will study the mechanisms that cause inflammasomes to become activated and how we can target these pathways to develop new treatments for Parkinson's disease."
The two-year study will focus on new compounds as well as repurposed drugs that already have FDA approval for use in treating other inflammatory conditions.
"If we can prove they work in treating Parkinson's disease, we can repurpose these and get them to the clinic to treat patients faster than developing new drugs," Dr Gordon said.
Parkinson's disease is the second-most common neurodegenerative disease worldwide, with 10 million sufferers whose control of body movements is affected.
The disease is characterised by the loss of brain cells that produce dopamine, which is a chemical that co-ordinates motor control, and is accompanied by chronic inflammation in the brain.
Shake It Up Australia founder and CEO Clyde Campbell said the project could lead to promising new treatments for people with Parkinson's disease.  
"Brain inflammation is a key area of Parkinson's research and we're excited to be involved developing new treatments that can rapidly progress to clinical trials through our landmark drug repurposing initiatives," Mr Campbell said. 
The research team will also include co-investigator Associate Professor John O'Sullivan, whose team is leading clinical trials with repurposed drugs in Queensland.
Media: Dr Richard Gordon, r.gordon1@uq.edu.au, +61 7 3346 6081, +61 415 727 306; Faculty of Medicine Communications, med.media@uq.edu.au, +61 7 3365 5118, +61 436 368 746.