Eva Baxter and Vanessa Behan | Dr Goutham Narayanan Subramanian
5 October 2022

12:00pm

–

1:00pm
Title: Endometrial cancer studies at QCGC Research
Speakers: Eva Baxter and Vanessa Behan

Bio: Eva completed her PhD in molecular biology at the University of Edinburgh in 2012. She moved to Brisbane in 2013 and undertook a Postdoc at QIMR Berghofer Medical Research Institute researching oestrogen signalling in women's cancers. Eva joined QCGC Research in 2018 as a Postdoctoral Research Fellow where her focus is on identifying biomarkers to improve outcomes for women with gynaecological cancers.
Vanessa is a Clinical Trial Manager at QCGC Research. She is responsible for managing and operating gynaecological oncology studies including the LACC Trial and the ENDO-3 Trial, both international studies run from multiple centres across the globe. Vanessa is a Registered Nurse and received her Bachelor's degree in Nursing in 1997. She has been working within the gynaecological field since 1998. She has always been passionate about women's health and is proud to be part of a team working to improve the outcomes of women experiencing gynaecological cancer.
Overview: Endometrial cancer is the most common gynaecological cancer in women in Australia. For almost 20 years, the team at the Queensland Centre for Gynaecological Cancer (QCGC) Research has been researching and developing the best standard of care for women with endometrial cancer. This talk will provide an overview of endometrial cancer clinical trials and translational studies at QCGC Research.
---
Title: Treating mitochondrial dysfunction in Ataxia Telangiectasia (A-T) with a novel form of anaplerosis
Speaker: Dr Goutham Narayanan Subramanian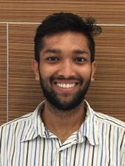 Bio: Dr Goutham Narayanan Subramanian is a Post-doctoral Research Fellow in the Lavin Ataxia Research lab.  Dr Subramanian is currently involved in studying the mitochondrial dysfunction in Ataxia Telangiectasia (A-T), a rare autosomal recessive disorder caused by mutation in the ATM gene. His research led to the identification of several biomarkers that are being to evaluate the prognosis of A-T patients undergoing a MRFF-funded Phase II clinical trial using Triheptanoin to correct the mitochondrial dysfunction in A-T.
Overview: Ataxia Telangiectasia (A-T) is a rare, autosomal recessive disorder caused by mutation in the ATM gene. A-T has a global incidence of 1 in 40,000 – 100,000 live births with a heterozygosity of 1.27% among the general population. This debilitating disorder is characterised by an early onset, progressive neurodegeneration with an average life expectancy of ~ 2 decades. 
Recently, Yeo et al., 2021 showed that a novel anaplerotic approach using heptanoate (a metabolite of the triglyceride, Triheptanoin) corrected the mitochondrial dysfunction in ataxia telangiectasia (A-T) thus improving the mitochondrial function and dramatically reducing hypersensitivity to glucose deprivation.  An MRFF-funded phase II clinical trial to treat A-T patients across Australia was activated based on this successful demonstration of heptanoate's benefits to A-T patient-derived cells. Dr Subramanian will give an overview of the clinical trial and also present some encouraging data from the ongoing clinical trial.
About UQCCR Seminar Series
UQCCR Seminar Series
The UQ Centre of Clinical Research (UQCCR) Seminars are held fortnightly on Wednesdays from 12 pm - 1 pm (except during school holidays) currently on Zoom. The series features topics in multiple research fields, presented by invited international, interstate and local researchers.
Venue
UQCCR Auditorium and Zoom: https://uqz.zoom.us/j/87198801358