University of Queensland Professor Andreas Obermair has been presented with the 2017 Jeannie Ferris Cancer Australia Recognition Award for his contributions to improving healthcare for women diagnosed with gynaecological cancer.
Professor Obermair leads UQ's Queensland Centre for Gynaecological Cancer Research (QCGC Research), and has championed the use of minimally invasive surgical procedures over traditional approaches.
Cancer Australia's CEO Dr Helen Zorbas gave praise to Professor Obermair for his work, recognising its importance in improving outcomes for women diagnosed with gynaecological cancer.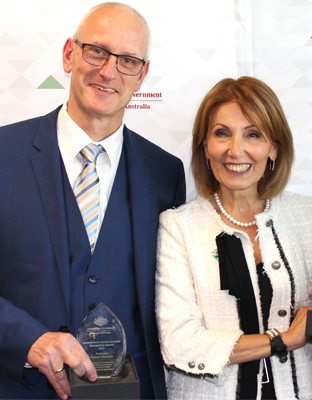 "The efforts and achievements of Professor Obermair have made an invaluable contribution to better outcomes through improved gynaecological cancer awareness, support, treatment and research," she said.
In addition to his research, Professor Obermair has developed educational resources for both healthcare professionals and patients, in order to help them better identify symptoms of gynaecological cancer.
His recent research has shown that laparoscopic keyhole surgery is more beneficial than open abdominal hysterectomy for women in need of treatment for early stage gynaecological cancers.
"The study showed adopting minimally invasive surgery as a preferred standard of care would significantly reduce the number of patients developing severe surgical complications," Professor Obermair said.
On August 26, QCGC Research will host its annual Patient and Family Symposium, a free event designed to share information about current research on gynaecological cancer.
The symposium at Customs House brings together women undergoing treatment, their family and friends, and researchers and students, in order to facilitate information about current research on gynaecological cancer.
The event runs from 9:30am to 1:00pm.
To register, please phone 07 3646 1722 or email info@gyncan.org.
Media: Kim Lyell, k.lyell@uq.edu.au, 0427 530647.