About
Associate Professor David Whiley manages the Microbial Diagnostics and Characterisation Lab, which is a joint initiative of Pathology Queensland and The University of Queensland's Centre for Clinical Research (UQCCR). This Lab focuses on enhancing the capacity of clinical laboratories to diagnose, identify, and characterise bacteria and viruses, with an emphasis on paediatric, respiratory, and sexually transmitted infections. 
The Lab's priority research area is antimicrobial-resistance, with the aim to improve antibiotic-resistance surveillance in areas where current surveillance activities are limited. We currently hold an Australian Research Council ITRP Research Hub on this topic, encompassing gonorrhoea, mycoplasma, CMV, and more.
We are currently recruiting Honours, Masters, and PhD students to work on many of the exciting and cutting-edge projects listed under the Research Projects tab, below. Any enthusiastic, research-minded students can email our Senior Group Members or Group Leader for more information.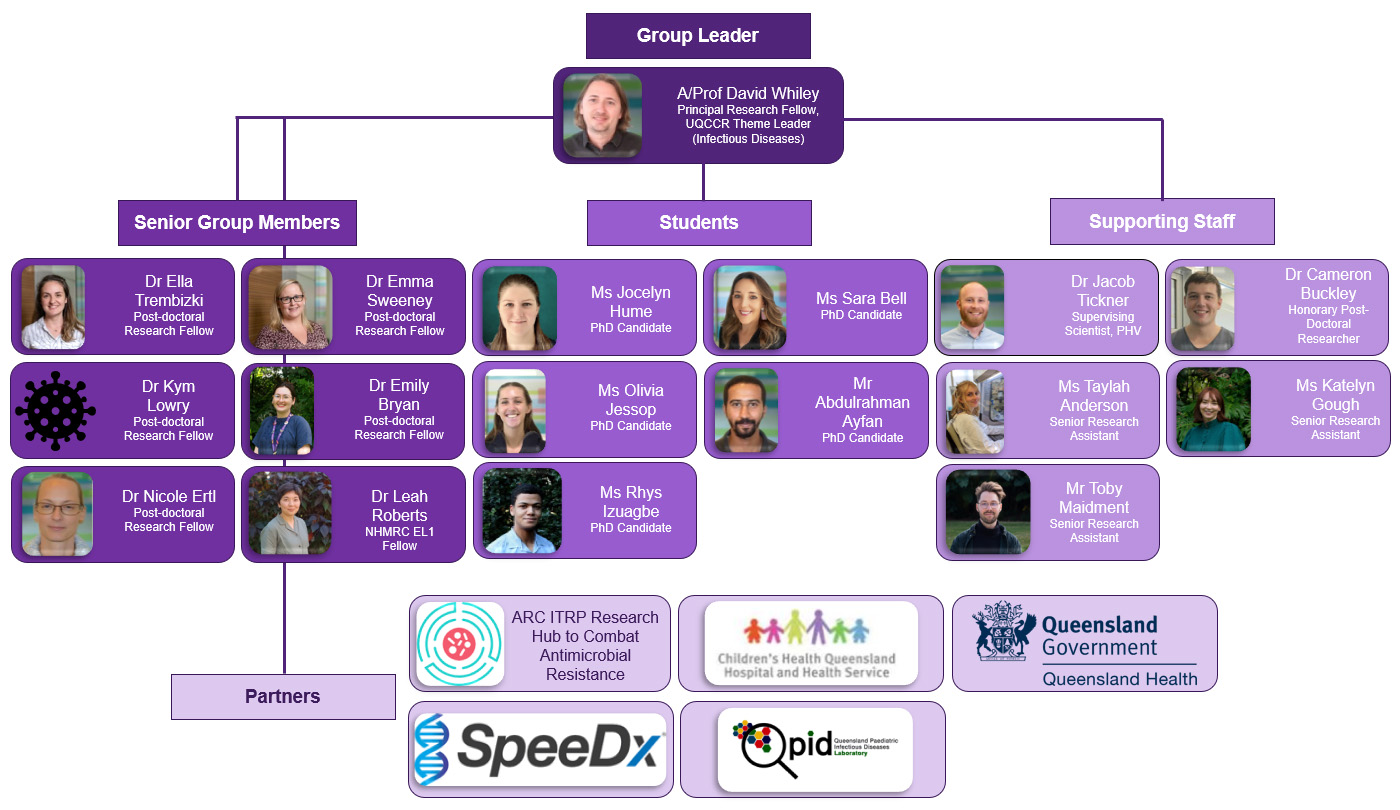 Mycoplasma genitalium antimicrobial resistance diagnostics
Novel approaches for the detection and characterisation of Mycoplasma genitalium
Isothermal detection methods for ceftriaxone-resistant gonorrhoea
Molecular characterisation of syphilis in Queensland
Enhanced molecular diagnostics for cytomegalovirus in children undergoing hematopoietic stem cell transplant
Enhanced diagnosis and management of active human herpesvirus-6 infections in immunocompromised children
Rapid detection of M1UK Group A Streptococcus
Molecular detection of meningococcal antimicrobial resistance
Neisseria gonorrhoeae molecular antimicrobial susceptibility assay utility: generating evidence to inform gonorrhoea management strategies
Rapid whole genome sequencing protocols for SARS-CoV-2 infections
Using genetic surveillance to understand the disrupted seasonality of paediatric respiratory viruses despite physical distancing
Development of wastewater-based epidemiology as a complementary approach for infectious disease surveillance
Epidemiological surveillance of Neisseria gonorrhoeae AMR in Indonesia
Prevalence of ocular Chlamydia trachomatis infection and anti-Pgp3 antibodies in Nauru and Choiseul
Epidemiological surveillance of Neisseria gonorrhoeae AMR in Fiji
Australian
Professor Ken Beagley, Queensland University of Technology.
Dr Brian Forde, The University of Queensland
Dr Chris Howard, The University of Queensland
Dr Krispin Hajkowicz, The University of Queensland
Professor Amy Jennison, Queensland Health
Professor Stephen Lambert, Queensland Government
Professor Robert Ware, Menzies Health Institute Queensland, Griffith University
Professor Monica Lahra, World Health Organisation Collaborating Centre for STI and AMR, New South Wales Health Pathology
International
Professor Andreas Meinhardt, Justus Liebig University Giessen, Germany
Professor Hans-Christian Schuppe, Justus Liebig University Giessen, Germany
Dr Daniela Fietz, Justus Liebig University Giessen, Germany
Current
2024 - Australian Infectious Disease Council Clinical-Basic Seed Grant: Development of a prototype isothermal detection method for ceftriaxone-resistant gonorrhoea
2025 - Children's Hospital Foundation: Enhanced diagnosis and management of active human herpesvirus-6 infections in immunocompromised children
2025 - Australian Research Council: ARC ITRP Research Hub to Combat Antimicrobial Resistance
2023 - HeIDI and CSIRO IDR and AMR Mission Affiliated Projects: Development of Wastewater-based epidemiology as a complementary approach for infectious disease surveillance
2023 – UQ/AID Seed Funding: Development of a prototype isothermal detection method for ceftriaxone-resistant gonorrhoea
Recently completed
2023 - SpeeDx: REDI Fellowship on development of diagnostics for Mycoplasma genitalium
2023 - Children's Hospital Foundation: The development of an integrated molecular diagnostic pathway to optimise the treatment of cytomegalovirus in children undergoing haematopoietic stem cell transplant
2022 – Sexual Health Research Fund: Expanded gonorrhoea screening to inform guidelines for asymptomatic heterosexual women and men
2022 – UQ Seed Funding: Exploring the association between oral HPV and pharyngeal STIs (QIMR collaboration)
2022 - Australian Society for HIV, Viral Hepatitis and Sexual Health Medicine: Precision public health for enhanced syphilis management in Queensland
2022 - DMTC: Refining a molecular genetics platform for rapid and accurate point-of-care detection of pathogens
2022 - SpeeDx: ResistancePlus MABSC/MAC test for detection of MABSC, MAC and gene markers associated with susceptibility or resistance to macrolides and amikacin antibiotics
2022 – Pathology Queensland Study, Education & Research Trust Fund: Rapid Whole Genome Sequencing Protocols for SARS-CoV-2 Infections
2021 - Children's Hospital Foundation: Enhancing detectioin and management of Mycobacterium abscessus complex (MABSC) infection in children with cystic fibrosis
2020 - Children's Hospital Foundation: Rapid point-of-care tests for multidrug resistant superbugs
2020 - UQ Early Career Project-Support Grant: Preparing for the worst: novel rapid diagnostics for extensively drug resistant (XDR) Salmonella in high and low resource settings
2020 - Pathology Queensland Study, Education & Research Trust Fund: Enhanced diagnostic testing for Mycoplasma genitalium antibiotic resistance